Welcome to White River Campground & Cabins!
Welcome to White River Campground, a beautiful RV park on the banks of the White River in Flippin, Arkansas. The crystal clear waters of the White River are the trout fishing capital of the USA, with our park scenically located alongside the historic RM Ruthven Rainbow Arch Bridge.

As new owners, we purchased the park in 2021 after a journey of more than 3½ years and a distance of over 800 miles from our former home in Ohio. We quickly fell in love with Arkansas, and when we first saw the name 'Flippin', we knew this had to be our park. We have been married for almost 30 years, with two adult children, and have been camping for longer than that.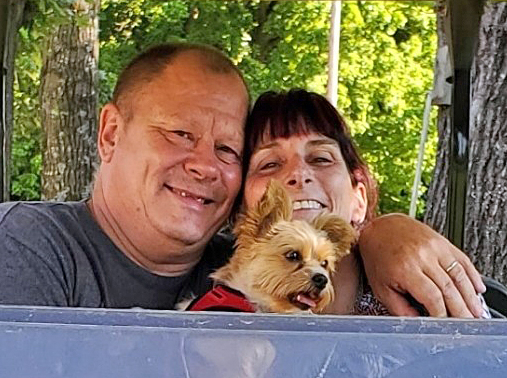 We have great plans for the park's improvements. In the short term, returning guests will recognize a cleaning and refurbishing of our cabins and a cleaning and refreshing of the rec room to make it more enjoyable on those occasional rainy or super-hot days, with a 72 inch TV, another TV for video games, tables for board games or puzzles, and a lending library. Soon to be added will be a foosball table and/or a ping pong table. An empty pond will become a swimming pond with a beach and seating areas, a trail through the woods will be cut and maintained for our guests to enjoy hiking and nature, and we plan to clear our riverfront area to open up the view and make the river more accessible. We are also expanding our tenting areas and painting and improving the playground to make it more enjoyable than ever for our younger guests.

As you venture beyond the park, the town of Cotter is just across the river, with antique stores, artisan shops and a variety of restaurants, and our campground will serve as your perfect base to explore the many area attractions, including beautiful caverns and the Ozark National Forest. A bit further afield, Branson, Missouri and Eureka Springs, Arkansas are easy day trips.

Please plan on making your reservations to stay with us this season. We are looking forward to meeting new guests and making new friends!

Michael, Shelley & Naomi
White River Recreation
The Twin Lakes area of Arkansas, nestled in the beautiful Ozark Mountains, is home to the crystal clear White River. We are a short drive to the Buffalo National River, Bull Shoals Lake and Lake Norfolk. This area of Arkansas is abundant with gorgeous caverns to explore, historic towns filled with local goods and antiques, hiking trails, and close to the Ozark Folk Center State Park. Many horseback riding outfits available in the immediate area. Enjoy the views of the Ozarks while you ride. One of the best mountain biking trails in Arkansas is located just up the road in Mountain Home. Click here to explore the many trails located in our immediate area. Opportunities for hiking and rock climbing abound.